Time to flesh out that running resume and check the box for 25k, earning a new PR by default, or by gutting it out on this fast and fun course.

How far is 25k? - 15.5 Miles

Parking - There is quite a bit of room to park around Shelter 16... just try to squeeze in and find a spot. Please take care parking to allow for maximum parking.
We are pleased to announce this year, Mile 90 will be taking photos at our event!

There will be a quick packet-pickup event at our sponsor Double Shift Brewing at 6-8pm on September 15th, the night prior to the race.
Race Day packet pickup starting at 8:15am!

Course:

This course is a full tour of the best trail system in Kansas City. Nearly all on good single-track trails in a large, winding, clockwise loop. The only time you won't be on single-track is crossing the dam of the lake. No bridle trail involved. There are some rocks and roots, but this trail is not overly technical.

Course Record: Taylor Gonzalez, 2:10:29
Male Course Record: Kevin Herlihy, 2:15:58

Garmin Course Link - GPX File

About 1,500ft gain.

Due to the fact we will be celebrating with food and drinks for quite some time, there will be no cutoff for the race. You have virtually all day, so take your time enjoying the trails if you need to!



Aid: -- YOU MUST CARRY HYDRATION DEVICE WITH YOU, NO EXCEPTIONS --
- Water Only Drop/Gels: 3.5 miles (entrance to east side trails)
- Full Aid: 7.5 Miles
- Water Only Drop/Gels: 12.5 miles (again, exiting east side trails)

COURSE LINK: https://www.strava.com/routes/3134529970730919488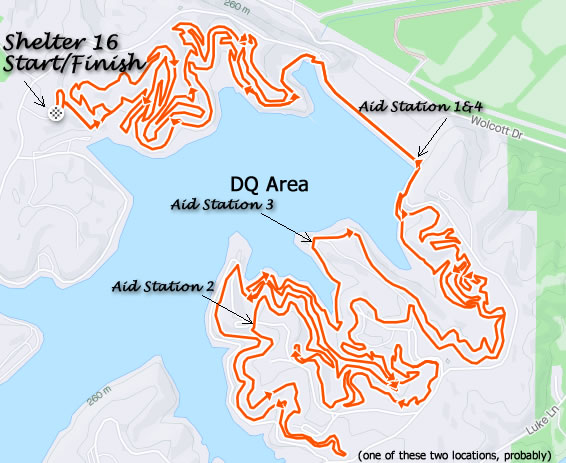 Bib pick-up beggining on-site at Shelter 16 at 8:15am, race will start promptly at 9.

Stick around afterwards for catered food from Don Antonio's. We will also have beer provided by our sponsor Double-Shift, as well as some other selections.

Race-day registration is allowed, but prior registration is encouraged. Race day registration is $100 payable with cash or bitcoin/ethereum/dogecoin.